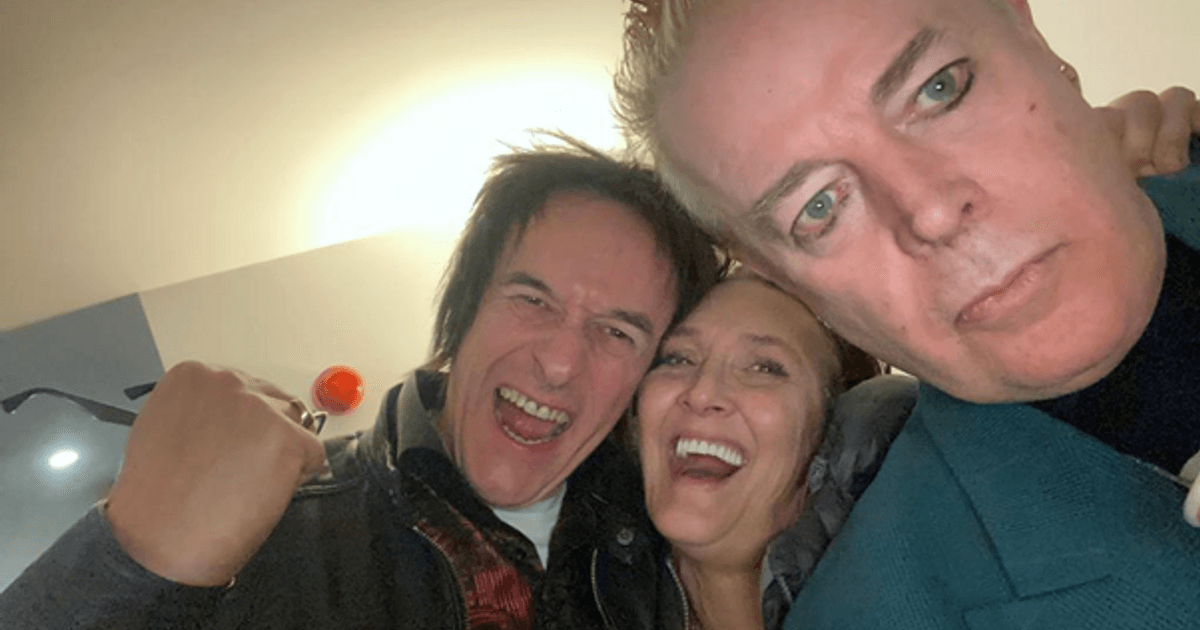 WFM's TRE TRE - Review THE BLOCKHEADS STORM THE PICTUREDROME HOLMFIRTH 23/03/23
Just hangin with @GizzButt (The Prodigy ) and Mike Bennett (The Blockheads ) backstage stage after a phenomenal gig at The Picturedrome in Holmfirth last night.
The Blockheads SMASHED IT!
They tore up that stage with musicianship and finesse, that's only gained from decades of performing. Having attended 100s of gigs in my 11 years as a radio broadcaster, you tend to get quite blasé and expect the same old thing!
LAST NIGHT WAS DIFFERENT!
Arriving at the gig after getting "AAA wristbanded up" I make my way to a rather privileged viewpoint, boxed off for "press only".
What began to go through my mind was, "Where do all these Blockhead fans appear from?" 100s start to file into the beautiful old theatre, smack bang in the middle of this idyllic, quaint British village just on the other side of SADDLEWORTH MOOR!!
Beautiful drive down.I even saw a beautiful fully arched, double rainbow.
PURE UNADULTERATED FEAR driving back!
After midnight, the fog was as thick as cotton wool, with visibility as if you were driving through cotton wool! When I say HORRENDOUS, I mean, imagine your worst horror location to be stuck in!?
THAT'S WHAT I'M TALKING ABOUT!!
You could not see the bonnet of the car. Driving at 1mph, in the middle of the road, because all you can do is follow the white lines ( pun intended ) trying to navigate, more twists and turns than a bowl full of spaghetti, all going downhill!
I showed that fog whose da mamma!
A 4-mile journey across that moor only took me an hour and 10 mins! I call that a win!
I digress......................... Back to the gig!
Blockhead fans start to gather and mingle enthusiastically with other Blockheads and Blockettes, who are in attendance for the same reason.
Their idols THE BLOCKHEADS.
All there to witness the magic.
One thing you need to know about the Blockhead's fans.
One can always judge by the stronghold audience. 90% were a quinquagenarian, sexagenarian demographic with a vein of youth running throughout. A sight to behold!
Most fans were proudly wearing their Blockhead merch while eagerly waiting for the band to come on stage.
The support act #LastRaceHome,
is a 6-piece band from Manchester.
I quote "United by one vision - to create a soundtrack to life in the most exciting city in the world"
What struck me about this band, was their instruments! These guys are really serious about their music. And it showed on stage. They were eye openly good! I managed to grab members from the band, backstage, before and after the show.
After their performance, the adrenaline was high, and the infectious post-performance excitement was everywhere and felt by all.
Watch this space. Last Race Home will be on #TALKWITHTRETRE soon. Thank you, guys! U rocked!
9.15pm and the stage is illuminated with spots. House lights are down and Members of the band swagger onto the stage Blockhead style, to an eruption of applause and shouts. Hands are in the air and fans simultaneously start to bounce to the beat of "WAKE UP AND MAKE LOVE". A pulsating reggae-tinged baseline begins. This captivating, timeless song,
The setlist was a mass of their most iconic hits. Written by Ian Dury and Chaz Jankle.
Partial to your Abracadabra,
amongst other notable classics.
Songs such as "I wanna be straight" co-written by Mickey Gallagher, and "sex and drugs and rock and roll" are still very relevant today. Mickey's and Chaz's keyboard skills are indescribable. U just got to see them in action!
Chaz plays a blistering mean guitar too!
The saxophonist, Dave Lewis was goosebump-inducing. The hairs on my neck stood on end.
While John Turnbull amazed me with his bluesy, funky punk, guitar riffs.
John Roberts's drumming looked like a workout from hell! you couldn't take your eyes off him as he ripped into a solo! Every beat of those drums pierced your soul!
Nathan King, level 42 fame, lived up to his name..what a bassist!!.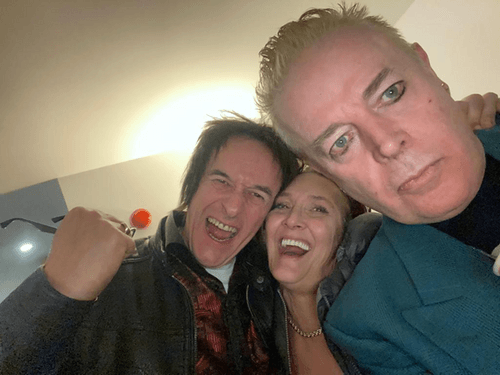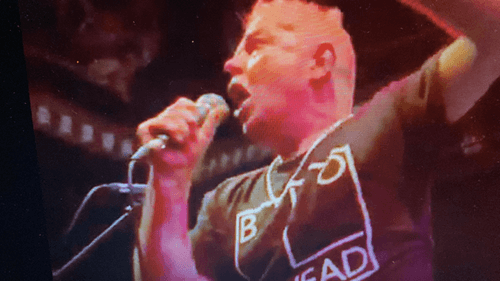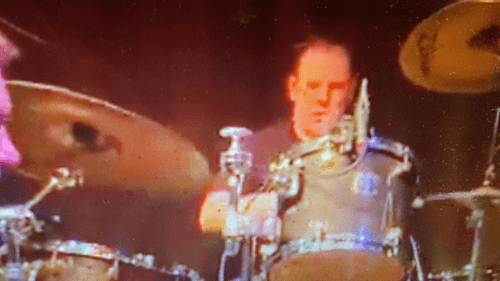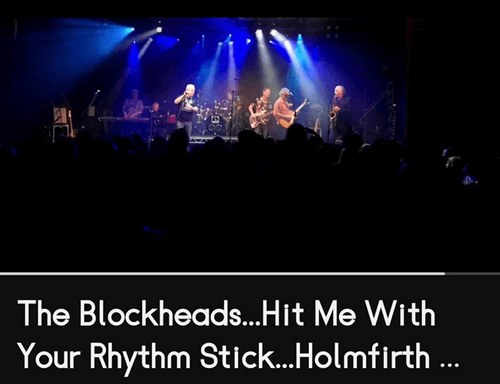 The combined lyrical penmanship, together with Dury's shockingly difficult, cockney rhyming slang, tongue tied the best of us!
Lounge jazz, funk, blues, Victorian music hall, and new wave, can all be heard, infused throughout their unique sound. Nothing was off limits in Dury's and Jankle's musical genius remit!
Then, like a genie out the bottle, Mike Bennet saunters on stage!
Mike Bennett, who is the current lead singer and 17 gigs in, fills some pretty damn big boots! He does this with ease, making it look incredibly easy! Mike doesn't imitate Dury. But u can recognise the same attitude and delivery! The audience goes wild when "WHAT A WASTE" starts. Bennet has the audience's attention.
Throngs of blockheads and Blockettes all jumping up and down, singing along, as if time had stood still! it was very emotional!
The last song "HIT ME WITH YOUR RHYTHM STICK" was the icing on the cake! Or was it?
An encore was demanded and The Blockheads delivered! A self-titled anthem of a track "BLOCKHEADS" from the album, NEW BOOTS AND PANTIES, was bellowed out BY EVERYONE! Even the techy crew joined in.
The combined harmonies of Chaz Jankle, Mick Gallagher Nathan King, and Mike Bennett was a beautiful sight to behold
All while standing in a row looking like a line-up from Britain's Most Wanted.
#GizzButt #mikebennett #nathanking #johnturnbull back stage after show party!